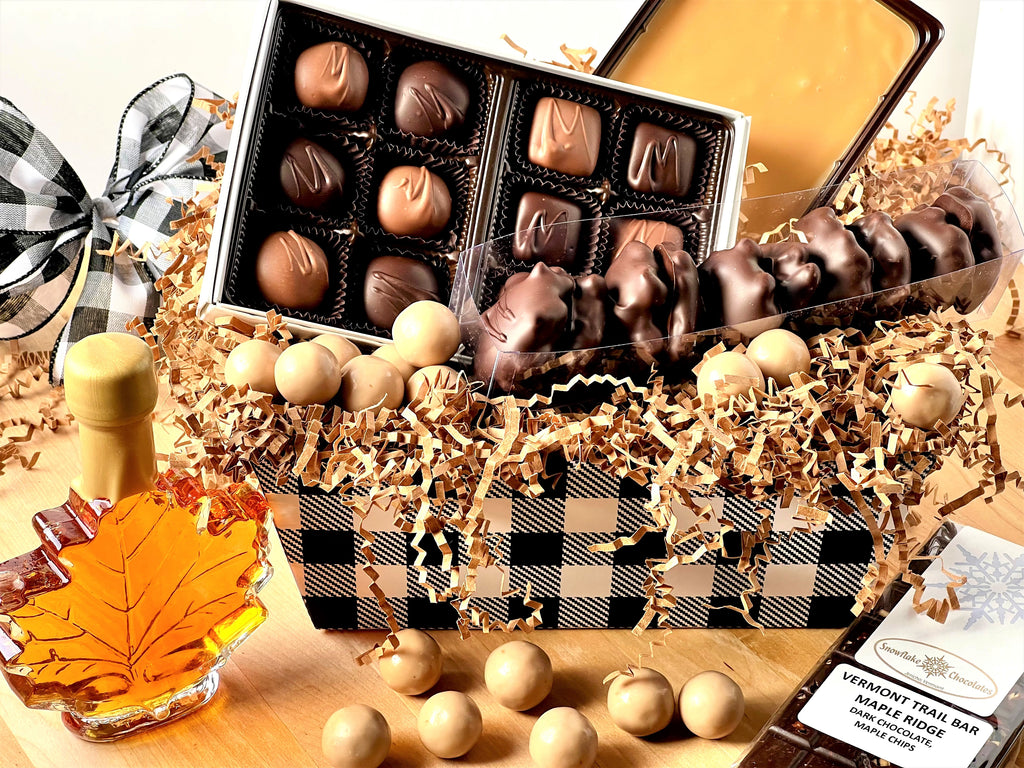 Vermont Maple Basket
Vermont and Maple Syrup are synonymous.  Vermont is the leading producer of this magical syrup in the United States.  It only seems fitting that we would dedicate a basket  to our Vermont Maple products and all things maple.  We salute our hard working Maple Sugar makers,  and their resilient Vermont attitude that keeps them working through snow and cold temperatures, constantly checking taps, buckets, and lines through their Sugar Bush (a forest of maple trees that is utilized for maple syrup).  This basket is the perfect way to share the pride and joy of Vermont Maple Syrup.  
Included in the basket...
(1) 12 oz box of Awesome Maple Fudge made with fresh Vermont cream, butter and real Vermont Maple Syrup.
(1) 12 pc box which includes 6 pieces of our top selling milk and dark chocolate coated Vermont Maple Creams (made with real Vermont Maple syrup of course!), and 6 pieces of our rich chewy Vermont Maple Caramel made with fresh Vermont cream and real Vermont Maple Syrup.
(1) 3.4 oz glass Maple Leaf filled with Amber Vermont Maple Syrup.
(1) 7 oz  sleeve of dark chocolate coated Maple Walnut Turtles (Our delicious Maple Caramel funneled on top of walnuts and coated with dark chocolate).
(1) 4 oz Vermont Trail Bar  dark chocolate with Vermont Maple Crunch.
(1) 4 oz bag Maple Malt Balls
---
---
More from this collection